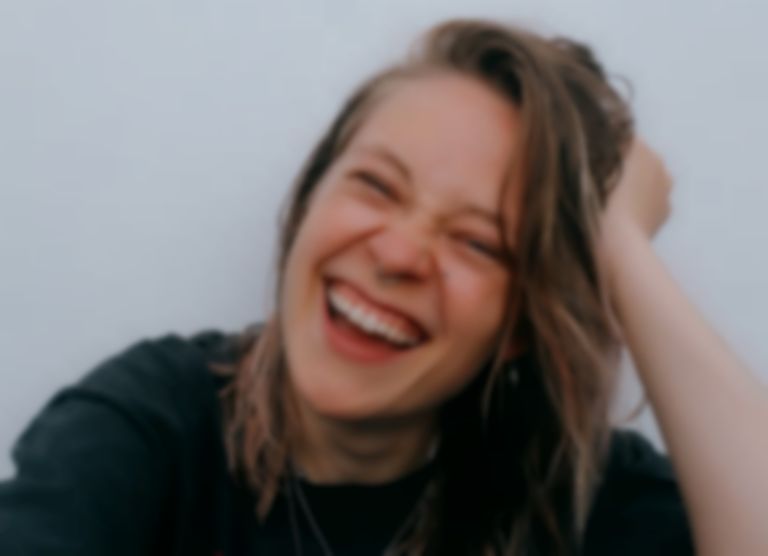 One of our favourite albums of this year is the debut by Anna B Savage. The album, 'A Common Turn' was released back in January and we loved it. So, we are pleased to see that Anna is releasing an EP, called 'These Dreams', of four songs on September 24th via City Slang. There are three new songs and a cover, that we can't wait to hear, of Edwyn Collins' 'A Girl Like You'. The first track is released, along with a video. It's called 'Since We Broke Up'. It's not the sad and maudlin that can be so often attached to such a song title. This is the joy of newfound freedoms and being one's self. This is what Anna has to say about it.
"This song exists in a post break-up liminal space. Where normally there is sadness, reflection and heart ache, I realised that for me this particular space was full of contentment, resilience and small joys. Addressed to the old partner, it allows for free-flowing if sometime tentative speech: actually, I hadn't been lonely since, I didn't make the wrong decision, I'm on my own a lot, and I'm loving it. This song explores the melodrama and the mundanity of those days after a break up, where small things can seem hugely altered now that you're contending with them alone. I found myself for the first time in my life realising that I liked myself and that I was happy in my own company. I wanted this emotional back and forth to come across in the production, and I think the oscillation between the verses and choruses do this perfectly – the tug of war between all the different audible elements, the spaces between pain and joy, codependence and self-sufficiency. I guess it's the happiest song I've ever written."
Have a watch and a listen, then read a bit more info on the EP. Tour dates are below too.
The three original tracks on the These Dreams EP were written and recorded in amongst the lot for A Common Turn. Before tracklisting, these were very much part of the album – but of course, decisions had to be made and these were cut. However, they are integral to the album and the album arc and Savage wanted to release them to show the edges of the emotional places that writing A Common Turn took her to. Expanding more, she said "This EP traverses the expanse between possibly the most difficult and wrenching song (These Dreams) and the most positive and defiant (Since We Broke Up), and it's not an easy listen by any means. Hairier Now was written about the same person as Baby Grand, but a year earlier, after a seven year absence. I also chose to do a cover of the classic Edwyn Collins track A Girl Like You as I wanted to tie another track in to the album, but obviously writing another track would've meant it was completely taken out of the time frame. The Edwyn Collins owl mug is in Baby Grand, and I've loved this song ever since I saw it in Empire Records – what a sexy, sensual, surprising song. I decided to put a more These Dreams kind of spin on it, turning it in to a slightly creepier and more difficult iteration of the original track."
October 5, 2021: Louisiana, Bristol (SOLD OUT)
October 6, 2021: Night and Day, Manchester
October 7, 2021: The Hug & Pint, Glasgow
October 9, 2021: Workmans Club, Dublin
October 11, 2021: Hare & Hounds 2, Birmingham
October 12, 2021: The Lexington, London (SOLD OUT)
October 13, 2021: Prince Albert, Brighton
October 14, 2021: Elsewhere, Margate
October 21, 2021: Witloof Bar, Brussels – Belgium
October 22, 2021: Molotow Sky Bar, Hamburg – Germany
October 24, 2021: Hus7, Stockholm – Sweden
October 25, 2021: Krosset, Oslo – Norway
October 26, 2021: Vega Ideal Bar, Copenhagen – Denmark
October 28, 2021: Kantine am Berghain, Berlin – Germany
October 30, 2021: Haus Der Musik, Vienna – Austria
October 31, 2021: Heppel & Ettlich, Munich – Germany
November 2, 2021: Bogen F, Zurich – Switzerland
November 3, 2021: Circolo della Musica, Turin – Italy
November 4, 2021: Le Periscope, Lyon – France
November 5, 2021: La Boule Noire, Paris – France
November 7, 2021: Le Grand Mix, Tourcoing – France
November 8, 2021: Bumann & Sohn, Cologne – Germany
November 9, 2021: Paradiso Upstairs, Amsterdam – Netherlands
January 21, 2022: King's Place, London

These Dreams EP tracklist:
1. Girl Like You
2. Hairier Now
3. Since We Broke Up
4. These Dreams