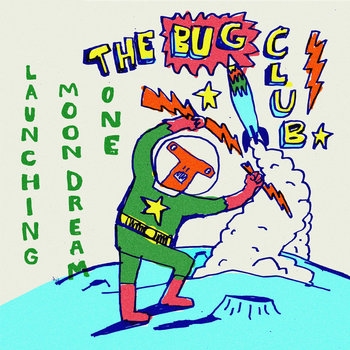 Hello Bug Club…..welcome to the Clunk universe
Please introduce the band, who does what and where you are based.
Hello David!
Sam Willmett plays guitar and sings, Tilly Harris plays bass and sings and Dan Matthew plays drums. Tilly and Sam are both based in Caldicot South Wales and Dan is based in Kidderminster.
Why are you called The Bug Club? Any entomologists amongst you?
Sam's brother started a gang when he was about 6 called The Bug Club and we thought it was funny. I don't think we're fully in the gang yet though cos we need to catch all three of them to pass the initiation and one of them is a police man so would probably be quite difficult now. People mishear and think we're called The Butt Plugs which could be a better name? Tilly still thinks we should be called 'Tinned Plums' though. I don't even think tinned plums exist.
You have a new EP on the way….can you tell us a little about the songs and why the title 'Launching Moondream One'?
Launching Moondream One is the last song on the EP. It comes from a space themed album we wrote that only exists to us at the moment. We write our songs in 'albums' and just picked three other songs we liked from those to make up the EP. Mr Ben from Bingo did the artwork and we knew he'd do something we loved with that title.
There is a comic to be had when one orders the vinyl, on a lovely orange (I've pre-ordered mine!). Who created the comic and would you like to tell us about it? Or is it all top secret?
First of all thank you for Pre Ordering! I can't tell you about the comic sorry but I can tell you that orange is my favourite colour so we're all pretty pumped about that.
The track 'We Don't Need No Room for Lovin' has been played by Mr. Marc Riley. That must have been a moment of excitement for you folks. Were you sat around a fire listening to the wireless with a glass of something?
It was mad and nerve wracking. I would say more nerve wracking than an actual gig but I can't remember anymore haha. That's kind of true yes, there wasn't a fire cos we have central heating in our gaff (don't mean to brag) but there was booze involved.
Bingo Records have built an impressive stable of artists. Is there a healthy rivalry between you all, you know, like a competitive family?
I haven't felt any rivalry at all and they all seem very supportive. We haven't met in the flesh yet because of the pandemic but I imagine we'll all be bezzies
Are you planning a party as soon as we can safely do so and will you send an invitation to Clunk HQ? We are happy to bring a bottle!
I think there is going to be a party yes but we don't wanna host because we don't like speaking to people, goodbye xxx
Thanks for taking the time for Clunkonline. We look forward to hearing more from The Bug Club. Don't forget to come to Cumbria when you sort a tour.