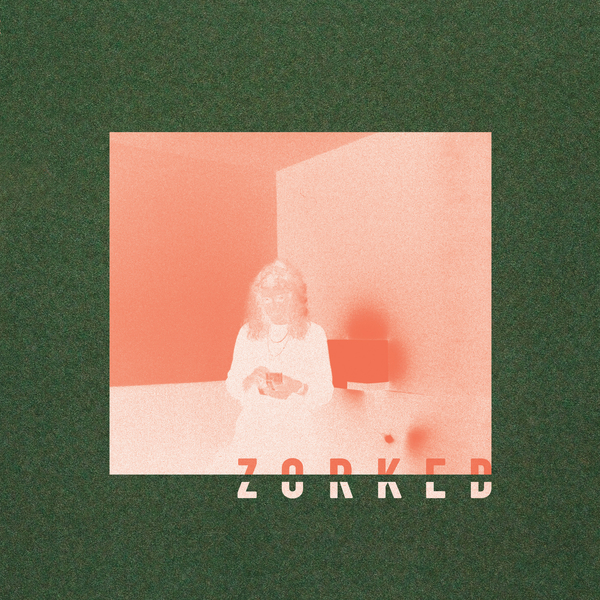 This is an album we have been anticipating for a while at Clunk HQ. Let's get the definition of the word 'Zorked' out of the way, in case you were wondering.
Zorked (adj.) – what happens when you end up thunderbaked, as in extremely stoned–or in any situation where you feel not sober. You can feel so tired you're zorked. In fact, any state, so long as you're a little out of it, qualifies.
Okay, so what about the record? It's a hefty opener, starting with 'Death (XIII)', a grinding guitar driven track, Julia's voice just audible but clear. A different feel to 'Come With Me', more dreamy, hypnotic even. 'Reptile!Reptile! could easily have remained an instrumental but is not spoiled by Julia talking over the top. There's a couple of gentle sounding tracks in 'Hall of Mirrors' and 'Hellscape'. Anyway, this is a great record in the humble Clunk HQ opinion. We advise you to give it a couple of listens, it will surely be irresistible. Then its a delve into Julia Shapiro's back catalogue with the band Chastity Belt.
 Here's some PR stuff for some insight.
In March, she packed up her things and traded Seattle's late-winter gloom for the perennial sunshine and seemingly endless opportunity of Los Angeles–only to be forced into near-total isolation.
"I know everyone had a feeling of lost identity, but for me, it was even more extreme. I had no friends. I was alone. I asked myself, 'Why am I here?' Just every day: 'why am I here?'"
With nowhere to go and nothing to do, her new songs started to take shape. On her second album under her own name Zorked, Julia's Los Angeles is a wasteland melting in slow-motion, a place to commune with ghosts and warped legacies. As she puts it: "It takes you on a wild ride. There's weird shit in it."
Living within earshot of a man who spent his entire 2020 singing karaoke for over 10 hours a day, Julia could write, record, and play an album's worth of instruments without fear of noise complaints. Her roommate Melina Duterte (Jay Som) had transformed their house into a viable home studio, making it easy to fully realise the sound in her head, even at the height of a global lockdown.
Taking things a step further, Melina agreed to co-produce the record, pushing Julia to make these new songs sound less like Perfect Version, her first solo album, or like the songs she performs in Chastity Belt. At the peak of her uncertainty and discomfort, she jumped into the deep end in search of something new–and found power in heavy sounds.
This is evident in the first few seconds of album opener "Death (XIII)." Taking newfound inspiration from the namesake Tarot card, drone metal and shoegaze, Julia layers walls of guitars, bass chords, and programmed drums that propel her voice skyward as she sings of "holding on to something concrete" in its chorus. "Come With Me," the album's lead single, takes inspiration from a mushroom trip gone bad. "Take me to awful places now," she sings, envisioning heat death as her own eyes stare directly into the sun. On "Wrong Time," shimmering guitars smolder and levitate, yet she finds herself "stuck inside this hole I've dug."
That said, these songs aren't unbearably sad, nor has Julia become any less of a merciless observer of human behavior. Recalling Elliott Smith at his most self-aware and Courtney Barnett at her most detail-oriented, "Someone" relentlessly skewers an apathetic, selfish partner:
I'm just the means to your shitty end
someone to fuck, someone to call a friend
I know I'm not the one you want
a blank sheet for you to project on
And on "Do Nothing About It," Smith's voice resonates as she remembers how "Some guy with a stupid face told me to smile more." She thinks to herself, "Such good advice, I've never thought of doing that before," before tearing into everyone, herself included, clinging to what isn't working out of fear or purely sunk costs: "It's not going away / because you want it to stay."
By album closer "Hall of Mirrors," she's come full circle. Over fingerpicked guitar, the sense of lost identity becomes all-encompassing. It's the sound of a life lived on and for screens and the psychic damage invisibly done along the way:
Feed the illusion
But try to seem sincere
Live for the attention
While you're in a hall of mirrors
Though Julia found herself in a near hermit-like existence, writing and recording almost all of the album's instruments herself and struggling to navigate her place in a city and world rendered nearly comatose, she maintains a sense of humor about all of it. At the very least, "It's funny to force people to have to say Zorked out loud. Any other title sounded pretentious."